Real English Conversation - 69 : Live concert
---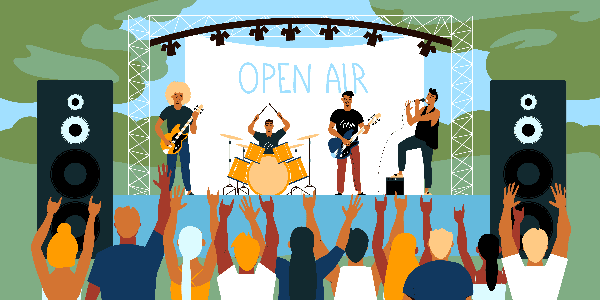 **Translation is an additional tool that can guide and assist beginners in their language learning process. If you feel comfortable enough, please turn it off.**
John: I'm excited for this concert. Are you ready to rock out?
Olivia: Definitely! I can't wait to see the band live.
John: What are your favorite songs by them?
Olivia: I really love 'Dancing in the Dark' and 'Born to Run.'
John: Those are great ones. Do you know any of their newer songs?
Olivia: Not really. I haven't listened to their recent albums.
John: It'll be interesting to hear some new material.
Olivia: Absolutely. I'm sure it will be a great show regardless.
John: I'm glad we got these tickets early. It looks like the show is sold out now.
Olivia: Yeah, I heard they're one of the best live bands around.
John: I wonder what the opening act will be.
Olivia: I'm not sure. Hopefully they're good too.
John: Do you want to grab some merch before the show starts?
Olivia: Sure, that sounds like a good idea.
Merch vendor: Welcome! We have T-shirts, hats, and posters for sale.
John: I'll take a T-shirt in size medium, please.
Olivia: I'll get a poster.
Merch vendor: Great choices. Enjoy the show!
John: I think the show is starting. Let's find our seats.
Please check your understanding:
What are Olivia's favorite songs by the band?
Has Olivia listened to the band's recent albums?
What does John wonder about the opening act?
What merch does John buy?
What do John and Olivia do when the show is about to start?