Real English Conversation - 102 : Traffic jam
---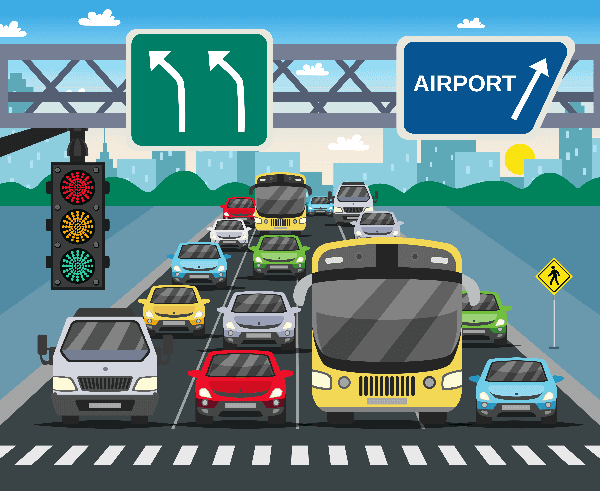 **Translation is an additional tool that can guide and assist beginners in their language learning process. If you feel comfortable enough, please turn it off.**
Emily: Oh no, looks like there was an accident up ahead.
Johnson: That's not good. I hope everyone involved is okay.
Emily: It looks pretty bad. The traffic is completely stopped.
Johnson: We might be here for a while. Do you want to listen to some music or something to pass the time?
Emily: Sure, that's a good idea.
Johnson: I wonder if we should try to find a different route.
Emily: Do you know of any alternate routes we could take?
Johnson: I'll check on my phone and see if there's a way to get around the accident.
Emily: I hope the emergency services get there soon and everyone is okay.
Johnson: Me too. Accidents are never good and can really cause a lot of damage.
Emily: I wish there was something we could do to help, but we're stuck here in traffic.
Johnson: Yeah, unfortunately there's not much we can do except wait for things to clear up.
Emily: I hope we're not too late for our appointment.
Johnson: We might have to call and reschedule if we're going to be too late.
Emily: This is so frustrating. I hate being stuck in traffic like this.
Johnson: I know, it's hard to stay patient, but we have to keep in mind that safety is the top priority.
Emily: Do you think we'll be able to get through this area anytime soon?
Johnson: It's hard to say, but we can try to look for updates on the traffic and see if there's any progress being made.
Emily: I'm getting really hungry. Do you have any snacks in the car?
Johnson: I have some granola bars and water. Want to share?
Please check your understanding:
What is causing the traffic jam?
What does Johnson suggest they do to pass the time in the traffic jam?
What do they discuss about their appointment?
What do Emily and Johnson wish they could do to help with the accident?
What snacks does Johnson have in the car?