Real English Conversation - 73 : Memorable day
---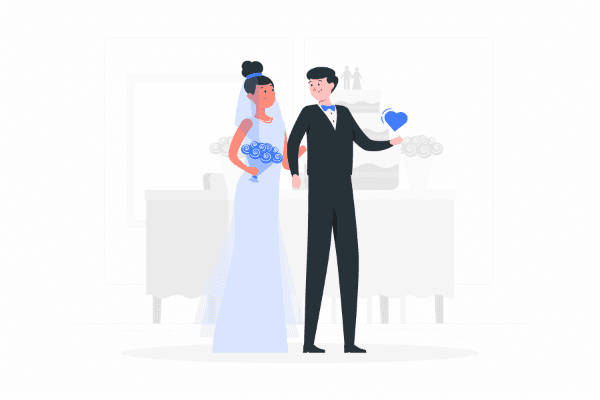 **Translation is an additional tool that can guide and assist beginners in their language learning process. If you feel comfortable enough, please turn it off.**
Alex: Do you remember our wedding day, Angelina?
Angelina: Of course, it was one of the most memorable days of my life.
Alex: It was such a beautiful ceremony. I couldn't take my eyes off of you.
Angelina: I was so nervous walking down the aisle, but seeing you waiting for me made it all worth it.
Alex: I'm so glad we wrote our own vows. It made the ceremony feel so personal and special.
Angelina: Me too. Your words brought tears to my eyes.
Alex: I meant every word, my love. You are the light of my life.
Angelina: And you are my rock. I couldn't imagine going through life without you by my side.
Alex: I loved our first dance as husband and wife. You looked so beautiful in your dress.
Angelina: You looked pretty dapper yourself. And I'll never forget the look on your face when I surprised you with that song.
Alex: I couldn't believe it when you started singing. You have the most beautiful voice.
Angelina: You always know how to make me feel special.
Alex: That's because you are special, Angelina. You're my soulmate.
Angelina: I feel the same way about you, Alex. Our love is one for the ages.
Alex: I'm so excited for our future together. We have so many adventures to look forward to.
Angelina: Me too. As long as we're together, we can conquer anything.
Alex: Forever and always, my love.
Angelina: Forever and always.
Alex: I can't believe it's already been 10 years since our wedding day.
Angelina: Time flies when you're in love, my dear.
Please check your understanding:
What did Alex and Angelina do during their wedding ceremony that made it feel special?
What did Angelina surprise Alex with during their first dance?
What did Alex say about Angelina's singing voice?
How does Angelina feel about her future with Alex?
How long has it been since their wedding day?