Real English Conversation - 80 : New year celebration
---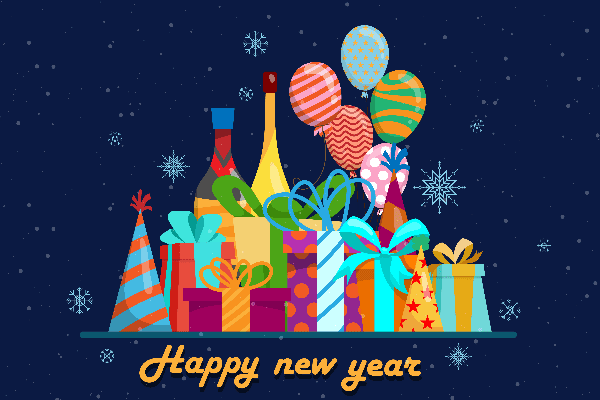 **Translation is an additional tool that can guide and assist beginners in their language learning process. If you feel comfortable enough, please turn it off.**
Steve: Hey Andrea, what do you think about having a New Year's party at our house this year?
Andrea: That's a great idea! We haven't hosted a party in a while.
Steve: We should start thinking about the guest list. Who do you want to invite?
Andrea: Let's invite our friends from work, and maybe some of our neighbors.
Steve: What about food and drinks? Should we provide everything or have people bring something to share?
Andrea: I think we should provide the main course and drinks, and ask our guests to bring a side dish or dessert.
Steve: Do you have any ideas for party games or activities?
Andrea: We could set up a board game area, or have a karaoke machine. What do you think?
Steve: Should we have a theme for the party, like a costume party or black and white attire?
Andrea: That could be fun. Let's ask our guests what they prefer.
Steve: I'm thinking of setting up a photo booth with props. Would you be interested in helping me with that?
Andrea: Sure, that sounds like a great idea. I'll help you gather the props and decorations.
Steve: What time should we start the party?
Andrea: I think we should start around 8 pm, that way people have time to eat dinner before they come.
Steve: Do we need to send out invitations, or can we just invite people through text or social media?
Andrea: I think we should send out formal invitations, it's more personal and adds to the excitement of the event.
Steve: Should we have a countdown to midnight and watch the ball drop on TV?
Andrea: Definitely! That's a classic New Year's tradition.
Steve: Do you think we need to hire a cleaning service to come after the party?
Andrea: That's a good idea. We can schedule a cleaning service ahead of time, so we don't have to worry about it.
Please check your understanding:
Who are Steve and Andrea inviting to their New Year's party?
Who does Andrea suggest inviting to the party?
What time is the party starting?
What will the guests be bringing to the party?
What activity will be available for the guests at the party?