Real English Conversation - 2 : Amusement park
---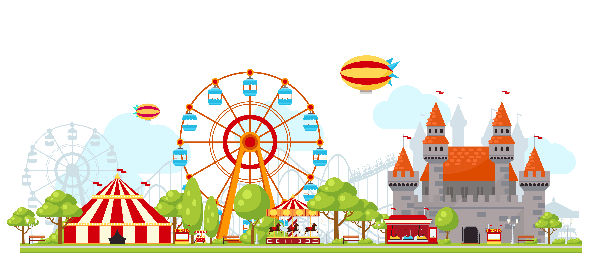 **Translation is an additional tool that can guide and assist beginners in their language learning process. If you feel comfortable enough, please turn it off.**
Alex: This is such a cool amusement park, don't you think?
Emily: I know, I'm having so much fun! Which ride do you want to go on next?
Alex: Hmm, let's try that rollercoaster over there. It looks like it goes really fast.
Emily: That one? I don't know, it looks pretty scary.
Alex: Come on, it'll be fun! And it's only $10 per person.
Emily: Okay, you talked me into it. Let's go see if there's a line.
Alex: Awesome, let's do it! So, are you here with your friends?
Emily: Yeah, I came with a group of people. What about you?
Alex: Same here. I'm here with a bunch of my college friends. We've been planning this trip for weeks.
Emily: That sounds like a lot of fun. So, what brings you to town?
Alex: We just wanted to take a break from our busy lives and do something different for a change. Plus, we heard this amusement park was really cool.
Emily: That's a great idea. I'm actually here on vacation. My family and I are staying at a beach house nearby.
Alex: Oh, that's awesome. I love the beach. Do you have any plans for tomorrow?
Emily: Yeah, we're planning to spend the whole day at the beach. We might do some surfing and have a bonfire at night.
Alex: That sounds like so much fun! I've always wanted to try surfing, but I'm not very good at it.
Emily: Don't worry, it's not that hard once you get the hang of it. You should come with us tomorrow and give it a try.
Alex: I might just do that. Thanks for the invitation!
Emily: No problem, the more the merrier. So, what other rides have you been on today?
Alex: Let's see, we did the ferris wheel, the bumper cars, and the water slide. What about you?
Emily: I did the merry-go-round, the haunted house, and the log flume. I got soaked on that one!
Alex: Ha, that's hilarious. You're a good sport for going on that ride.
Emily: Thanks, I like to live on the edge. So, what ride do you want to try after the rollercoaster?
Alex: How about that giant swing over there? It looks pretty intense.
Emily: Yikes, that looks crazy. But what the heck, we only live once!
Please check your understanding:
What is Emily's response when Alex suggests they try the rollercoaster?
What is the price for the rollercoaster ride?
What is the reason Alex gives for coming to the amusement park?
What activity does Emily invite Alex to do with her and her family the next day?
What ride do Alex and Emily agree to try after the rollercoaster?